Welcome kindergarten parents! I'm so glad you've found Cool Kindergarten.
As a kindergarten teacher, I hope that you find this free resource to be helpful and support your child's learning!
Here is how Cool K works and the nitty gritty of what you might want to know about this website.
How Cool Kindergarten Works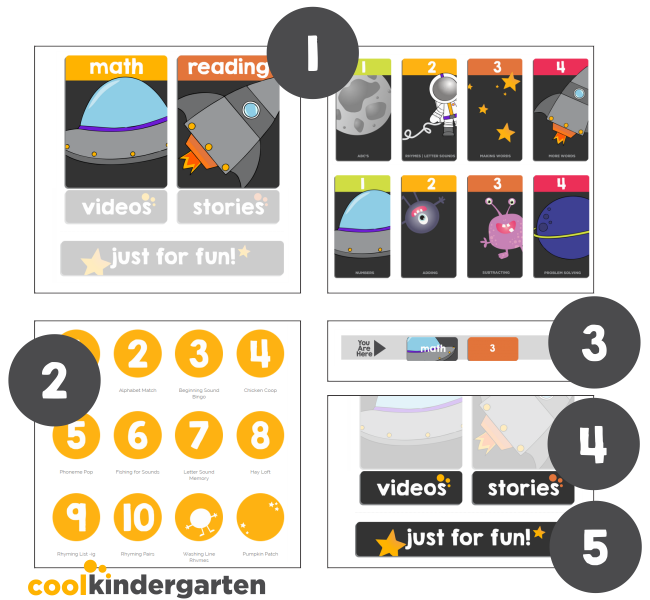 Your child starts on the home screen where they can choose the main activities. They can choose from: math, math videos, reading, reading online stories or just for fun games. The two main kindergarten standards-based activities are located under math and reading.
They play the listed games and activities in order for the math and reading pages. They select links based on choice for the videos, stories and just for fun games.
Your child can use the built in clickable navigation. Click the images to go back a section, or to go home.
The stories and videos are also standards-based and are great for occasional use.
The just for fun section can be used at any time but also work great as a reward!
Games and activities are updated over time. If you find a link that has gone dead, please report it using this form.
The Nitty Gritty
Here are the things you might want to know about Cool Kindergarten.
There are standards listed and linked at the bottom of each skill set page.
you know your child needs additional help with a certain skill area or know of a standard they need to improve on – you can use these to help make sure they are on a page that fits their current needs.
The pages in reading and math are ordered to match how children generally grow academically.
The green page starts out with more basic skills – sometimes these are preschool skills depending upon the child's previous learning experience.
The yellow page has skills that are focused on applying what they've learned on the green page.
The orange and red pages do the same – they build on the skills used previously or go deeper into a vein of understanding. They are all geared to helping develop your child as a reader and a thinker with strong math strategy skills!
While these pages do not replace kindergarten curriculum or cover all standards – they will be a great compliment to what your child is learning in school and at home.
Cool Kindergarten does not collect any personally identifiable information from your child while using coolkindergarten.com. Please read our privacy policy and why we have ads if you have any questions or concerns.
If you like Cool Kindergarten, consider sharing it with others!