If you love this website, you'll love how easy it is to take your reading computer center up a notch with these YEAR LONG lessons ready to go.
I've created the Computer Reading Center for Kindergarten: Common Core Phonics and Literacy just for kindergarten classrooms. It's simple to use just like Cool Kindergarten but with MANY more standards covered!
Kinders click and learn – work at their own pace, stay on task and are highly motivated to work on the specific skills since it's using technology!
Take them on an interactive reading adventure in this 'traveling the world' themed center.
Purchase Reading Computer Center
Why You'll Love It
Standards-based interactive online activities, games and reading for kids to complete using the computer or laptops! This is an entire year's worth of kindergarten READING computer center lessons ready to go. It hits common core standards in reading and English Language Arts. Perfect for using in centers, stations, guided reading or at the computer lab. Get your students learning DIFFERENTIATED phonics and literacy material while making it EASY on YOU!
License: This purchase limits the use to one class, no limit on the number of devices.
Leslie has done it again! I continue to be impressed by the quality of her products and dedication to differentiated instruction. I am in LOVE with the reading computer center and purchasing the math one today. Thank you! – Shona Weaver
What's Included
Lesson Pages "Reading Center" PDF – 64 Pages of online games/activities ordered to cover the entire K year! Easy for students to click and learn with little-to-some modeling. Content is divided into 4 reading terrains, and each terrain into 3 skill areas. There are are 7-18 items per skill area. See preview file for explanation and example.
Skill areas: alphabet, reading basics, beginning sounds, ending sounds, rhyming, onset/rime and phoneme manipulation, short vowels, blending, sight words, digraphs, blends, mixed chunks, long vowels, r controlled vowels, two-vowel patterns, spelling.
Teacher Standards Quick Link – 4 Pages outlining the standards for each of the 4 learning terrains included in the reading center PDF. (See sample preview)
48 Audio Stories – 4 Pages within the reading center PDF that each has 12 audio stories to reinforce reading concepts, fluency and *optional* gives early finishers an open-ended activity.
52 Task Posters – Use posters to easily show students what games/activities to play!
6 "How To" Posters – These posters will help outline the basic steps for your students when they are first learning how to navigate to the correct set of games/activities you want them to play. 3 posters (each in 2 sizes) will cover the most used classroom devices: tablets, computers, laptops.
2 Customizable Task Lists – Create a list of activities you want students to play using the same graphics! Make differentiated lists for groups of students or even individuals. Use the 8 page PowerPoint file to type in student names and create a custom list with over 49 included graphics. You can differentiate as much or as little as you want!
This is amazing!!! I love the differentiation and game variety! Students will easily navigate these centers and computer time will tie in with classroom learning! LOVE!!!! – Stephanie
Product Notes
This is a DIGITAL FILE. No physical product will be mailed to you. You'll receive a link to an INSTANT DOWNLOAD.
You'll need to unzip this file after downloading. How to unzip a file.
NOT RECOMMENDED for iPads due to use of flash games.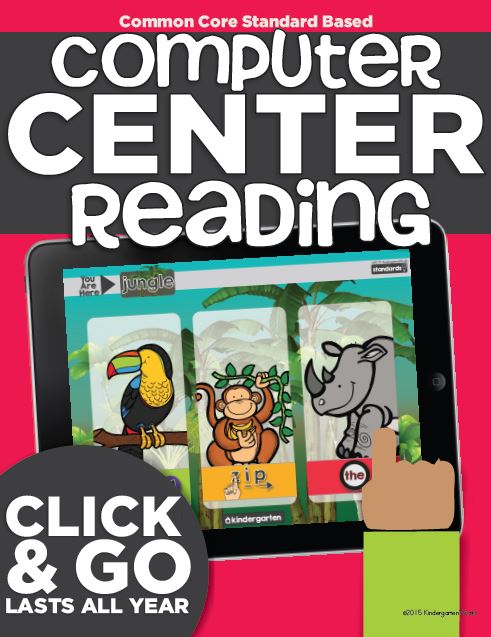 Purchase Reading Computer Center
Product Preview
See PREVIEW FILE here to learn more or to see if it's compatible with your device.
What a great resource!!! My kiddos are now able to be more independent on the computers!!! – Nicole G.
Video Tutorial
Read more about the Reading Center for Computers on my teaching blog KindergartenWorks.
Purchase Reading Computer Center
FAQ
I'm a classroom teacher. Can I use this?
Yes! I designed it to be used by you! I hope it saves you loads of time – consider your center done for the entire year.
Can I edit the games/links if one goes dead?
No. This file isn't editable so you won't be able to make changes. If you find a dead link, please use the links I've included to tell me which one it is. I'll be sure to check and update when needed. Updates are free.
What do I do if a game stops working?
If you find a dead link, please use the links I've included to tell me which one it is. I'll be sure to check and update when needed. Updates are free.
Are there logins required?
Nope! I've selected games that don't require logins or passwords to use them for free.
Does it remember student progress?
No. This product will not log your student's work or progress.
How is it different from Cool Kindergarten?
In two ways. One, coolkindergarten.com is a website. This product is a pdf.
The second way is that this product covers every skill in depth or in multiple activity styles. For example, while Cool Kindergarten has 11 activity links to cover the alphabet and letters, the Reading Center has almost 200 links! They are all easily organized and accessible so it will never be overwhelming.
Because of that, my favorite part, is the ability to differentiate at the level I want. I can assign the whole class to work on beginning sounds. Or I can just tell a reading group (small group) to work on beginning sounds, rhyming and/or ending sounds. Or I can even differentiate on the individual level – I can tell Ava to work on the letters R, T, F and beginning sounds. I've included posters and cards to help give visual directions at each level of differentiation.
Does it have the same games as Cool Kindergarten or the Computer Lab Lessons?
There is some overlap of the websites used – but each product has plenty of unique links and resources. Both the reading center and computer lab lessons guide students to specific levels of play for less specific websites to make it more laser focused and independent.
What an amazing resource. I finally have something worthwhile for my kiddos to do on the computers in my classroom. Now they look forward to the computers as much as the iPads. – Buyer